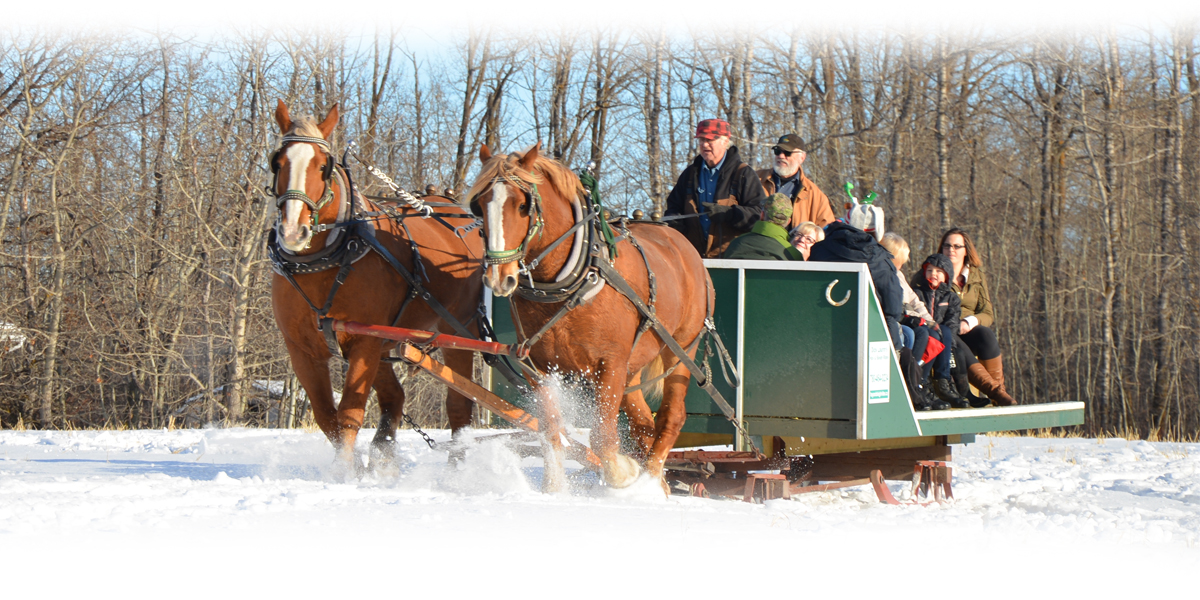 Welcome in winter with a trip to the country. Christmas in the Heartland is a driving tour of eight unique venues steeped in tradition. Local halls and churches will be filled with artisans and crafters, ice carvings, nativity displays, sleigh rides, holiday carolling and more. Local venues will be featuring different aspects of a traditional christmas – Brookville Hall, Good Hope Hall, Moyer Rec Centre, Partridge Hill Hall, Bethany Lutheran Church, Josephburg Community Church, Heartland Hall (North Contact Office) and Bremner House.
Donations to charity taken at all locations.
SATURDAY -Bussing available from Sherwood Park: Bus tickets through Eventbrite. Please call 780-464-8095 for more information.
Tour the locations with the interactive map:
https://strathconacounty.maps.arcgis.com/apps/MapTour/index.html?appid=cd1448e6596f457ba58e120f7dd70001&webmap=bdeea46a579e454aac3bbb5060d064e7
Saturday, November 23th, 2019~ 10am – 4 pm
Brookville Hall – Ukrainian Christmas theme with Perogy lunch and perogy making demonstrations. Santa's Workshop with a variety of crafts for children. Santa will be there too! Storytelling Alberta-Strathcona Chapter will be performing Christmas Stories Around the World, on the Bookmobile, for all ages. Performances at 11:00 a.m., 11:30 a.m., 12:30 p.m., 1:00 p.m. Ice Carving on-site. Located on Highway 16 at 53203, Range Road 212.  780-984-9880
Partridge Hill Community Hall – Unique hand-crafted gifts and art displays. Concession. Ice Carving on-site. 22002, Township Road 542 780-998-3000
Good Hope Hall – Enjoy the German culture with over 130 Nutcrackers on display. Bake sale and vendors selling home made items. Ice carver on site to watch them transform a piece of ice into a piece of art! Free hot chocolate! 21076, Township Road 542. 780-998-4661
Bethany Lutheran Church – Nativity displays of all sizes, many from around the world. Featured this year are Mexican Nativities. Sleigh rides and brass band.  Ice Carving on-site. 20577, Township Road 550 780-998-1874
Moyer Rec Centre – Country Market featuring homemade crafts, baking and Erin L. Gott's Performing Arts Students will be providing live, festive music every hour on the hour. Rope twisting demonstration and cinnamon buns being made onsite. Concession. (ATM Available). Ice Carving on-site. 54569, Range Road 215, Josephburg. 780-998-9450
Josephburg Community Church – Country market, bake sale, "name that antique" and festive music. Stop in and see the 125th Anniversary Josephburg Cemetery Photo Tribute. Ice Carving on-site. 21380, Township Road 550 780-998-9331  
Heartland Hall (North Contact Office) – Heartland Hall Fireworks Celebration- 4-6pm. Kids Activities, Princesses and other characters, beef on a bun and bookmobile. Ice carving onsite. Fireworks 6pm.  55305, Range Road 214 780-400-2165
Sunday, November 24th, 2019 ~ times vary
Bethany Lutheran Church – Nativity displays of all sizes, many from around the world on display. Featured this year are European Nativities. Warm drinks and goodies served. 12:30 – 4 pm 20577, Township Road 550 780-998-1874
Bremner Mansion – Arts and heritage activities, vintage tractors, Indigenous traditions  – dance, story telling, music and more. 11-3 pm 53452, Range Road 225 780-464-8095
Moyer Rec Centre – Free public skating. Come out and enjoy a great canadian past time with the family. Sponsored by the Josephburg Ag Society. 1:30-3 pm 54569, Range Road 215, Josephburg. 780-998-9450